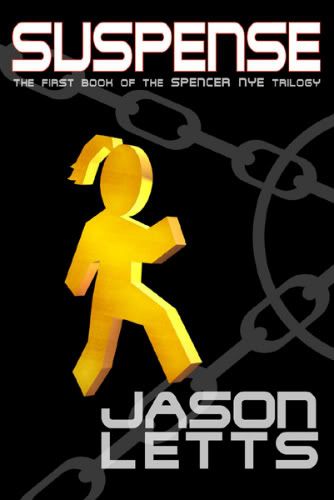 Suspense, the first book in my new YA (16+) dystopian trilogy is now available on
Amazon
and
BN.com
!
Just as exciting, I'm pleased to announce that early readers of Suspense will be eligible to win a new Kindle Wifi or Nook Touch, as well as other great prizes! All of you have to do is read the book and answer 4 simple questions by Oct. 9th. All of the details and questions can be found on the giveaway tab of my facebook page here:
http://www.facebook.com/authorjasonletts
Here's the description of Suspense.
Spencer Nye can't control the rage bubbling under her skin over the world around her. The trouble is, by the year 2102, the world has solved most of its great problems. Without hunger, war, greed, or even money, people obsess over the glamour of the Culture Industry and its mega-celebrity Idols, who vie for followers over the social networks of Connect.
But Spencer discovers there is plenty to fix within the Idols' competition for more popularity. She becomes a diehard and promises to do anything to help her Idol, a dreamy movie star named Cleary Mintz, bring his vision of hope and purpose to the world. When she stumbles onto a threat against his life, she'll have to fight harder than she ever thought possible or lose the man who means more to her than any other.
The story is a bit more adult than others I've written before, and so it's recommended for readers age 16& up. I'm very excited about the story though, which is full of action. Hopefully you like it too, and maybe that'll mean a new Kindle or Nook for you. Thanks for reading!