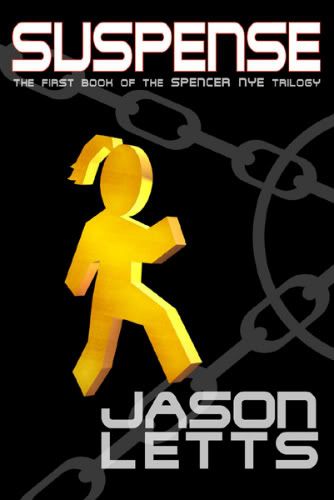 I have to admit it's been a lot of fun reading reviews for Suspense over the past couple weeks. Whether it's the action, the window into the future of social networking, or the characters and the story, it seems like everybody has found something that resonated with them. That's what this trilogy is all about, and as I get down to work on the sequel, I wanted to make sure I've got a good handle on why people feel the way they do about the story.
I think the reviewers said it best in their own words:
Aeicha at her blog,
Word Spelunking
, says:
"
This book is truly a page turner…seriously, I read it in one sitting and every time I told myself "Just one more chapter", I'd get to the end of that chapter and something exciting would happen and I'd have to keep reading to find out what happens next…and this kept happening until I finished the book and realized it was about 5am and I stayed up all night just to read it."
Jackie at My Tower of Books says: "
Spencer Nye is such a likable, yet flawed, heroine. She doesn't always make the right choices but her heart is in the right place. Plus, I like a character that isn't afraid to stop asking questions and kill the bad guys already! Spencer's romantic interests seem pretty clear cut when you first start reading, but take an unexpected and awesome turn! Original and crazy!"
Grace on her MotherLode blog says: "
As soon as I started the book I realized we were in a different world than I know, with the personal nodes, the connect system, and the idols. I love how this world was implied rather than explained, and I gradually figured out what made this world tick. The idea of Connect, sending messages simply by thinking and finding the information you needed in front of your eyes in a split second, was really easy to visualize yet unimaginable at the same time. I really liked the creativity in creating this futuristic world that is still really relatable, and I could picture us here in another hundred years."
Well said! A thrilling story, a thought-provoking world, compelling characters. I've been lucky enough to get it right for these reviewers and I hope plenty more people are feeling the same way.
I'll also note that we're 2 weeks from the end of Suspense's grand prize Kindle/Nook giveaway! If you haven't heard about it yet, check out the giveaway tab on our Facebook page!
Suspense, the first book in my new YA (16+) Dystopian trilogy can be found at Amazon, BN, itunes, and Smashwords! The paperback version is out now too!